Flower Tea
Regular price

Sale price

$14.50

Lovingly grown and magically blended for:

Calm mood support*
High tea delight
Garden daydreaming
Celebrating something special
Napping like a bee in a flower petal
Reclaiming your pleasure
A daily dose of joy
ingredients

Herbal tea blend for joy, pleasure + delight

Ingredients: Tulsi/holy basil**, Rose geranium**, Anise hyssop**, Chamomile**, Calendula flowers**, Bachelor buttons**

**100% Pennsylvania grown on our farm
100% Biobased tea bags

All Katydid Hill herbal tea bags are made from 100% biobased materials and are BPI certified compostable.

The tea bag material is called NeoSoilon, a mesh filter made from PLA resin originally derived from non-GMO sugar cane. 

We love using NeoSoilon for our teabags - not only do they look beautiful and show off our full leaf herbal teas, but the fine mesh and triangular shape also provide an excellent steep of herbs in every cup. Plus, it's all plants! There's no petroleum products involved, no microplastics in the fibers, and no "glue" to worry about.

Compostability: Our tea bags comply with European Standard EN 13432, the international standard ISO 17088 and also American Standard ASTM D6400, which means that 90% of its weight can biodegrade within 180 days in industrial composting conditions. 

Please check with your local composting facility to ensure that they can accept these materials.

For the home composter, let us know how these degrade for you in your conditions - we would love to share tips! 

According to the manufacturer, NeoSoilon has these advantages: 

Made of 100% PLA filaments from sugarcane. It is 100% bio-based and biodegradable*.

Suitable for various leaf teas because of its excellent permeability.

Contained no hazardous substances such as endocrine disruptors (environmental hormones)

Completely biodegraded when disposed in soil under good condition.

No generation of hazardous gases such as dioxin when burnt decomposed into CO2 and water.

The raw material of PLA resin originate from GMO free green crops – sugarcane.

Recyclable and environment-friendly, complies with international standards of industrial compost.

Check out this PDF from the manufacturer for all the details of NeoSoilon. And as always, reach out to us if you have any questions at all!
Zero waste packaging

Glass jars are infinitely reusable, perfect for up-cycling or recycling at the end of their life. Use them in your kitchen or drop them off with us! We will take all our glass containers back for reusing or upcycling.

Compostable pouches: bio-based, non-gmo, fully compostable! Sample packs and apothecary pouches are packaged in these compostable pouches.
Shipping info

Free shipping over $75! Applied automatically at checkout.

Add product to cart for quick view shipping estimate to your zip code.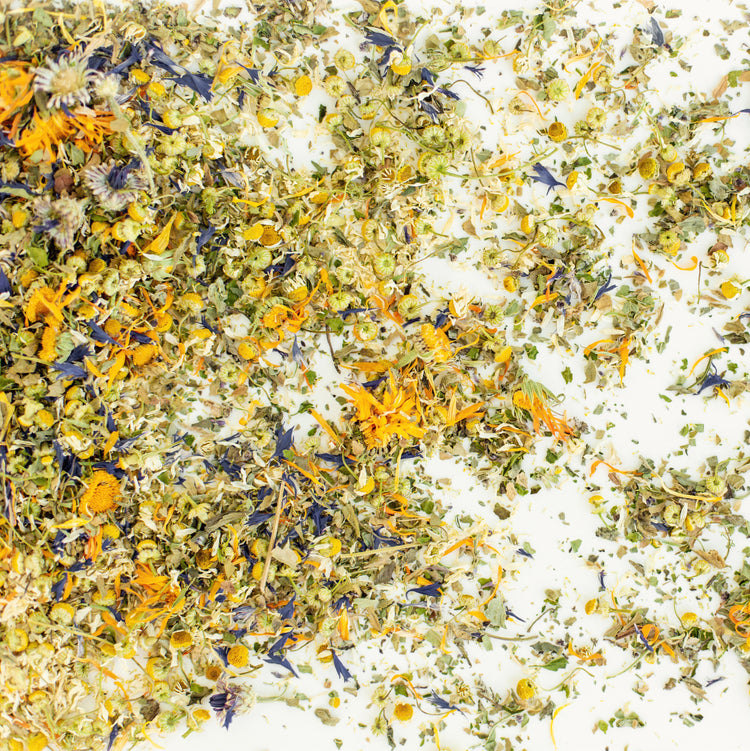 "These teas taste magical"
Herbal tea details
How to brew loose leaf tea

How to brew, steep and enjoy your herbal tea:
Loose leaf serving size chart

Find the right size loose leaf tea:
farming with heart

For Ben and I, farming is always about learning and trying to do our best. Just as often as we get things right, we mess things up, so to say we have a perfect system for growing herbs wouldn't be true. What we do is put lots of care and heart into growing the herbs for you. 
meet your farmers
Tea Testimonials



Flower Tea : do I need to explain that? It's tea with flowers. I am so happy to support a woman owned high quality organically grown herb farm. Every blend is considerate and packaging is on point. LOVE!

Hannah K.
I loved the teas. There is so much care in the packaging and the tea itself and the message on the jar, all the products are very special. Tea is a special moment for me I shared with mom and sister.

Paz Giron
Moonbeam tea...Good golly, my poor nervous system... it's a balm.

Meg Smith, CCH, The Nurtured Way
I've been enjoying your chamomile tea with my toddler…we love seeing the whole, high quality ingredients in the tea, and it teaches my son about herbs. He loves to see the chamomile flowers! The teas themselves are delicious and calming. 

Rachel K
Your sweet Sunshine Tea is fragrant and instantly calming but THAT CALENDULA. The most resinous, juicy, sumptuous dried flower I've ever had the chance to enjoy…Umph! 

Ailbhe Pascal, former chef and herban farmer
I feel enriched and welcomed by the materials you share and know I am getting high quality herbs that are grown with love and respect.

Grace, Environmental Advocate & Gardener