It all started with these two silly goats named Charlotte and Fern. 
I started this farm here in Orwigsburg, Pa and had been growing herbs and flowers for a few years already.
I got my start in veggie farms, so naturally I gravitated toward growing plants - and I knew that as a one-woman operation (with lots of amazing staff and family to help!) I couldn't add a bunch of animal chores on top of all the other farm duties I had going on.
But who can resist a couple of cute goat yearlings, given to me by a good friend, with those floppy ears??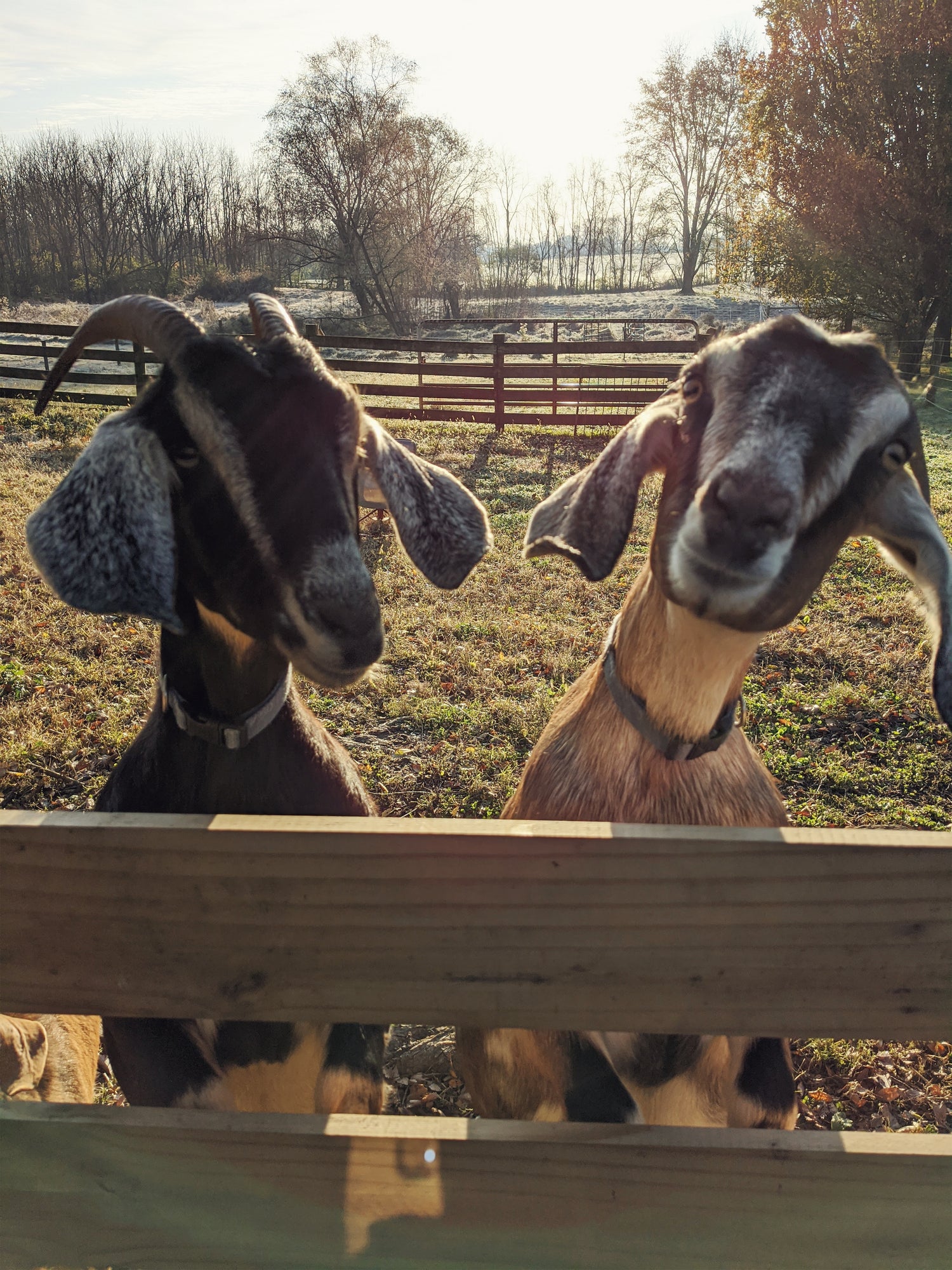 With no experience in the world of goats, I found myself with these two nubian mixes - so sweet, walking by my side, floppy-ears-don't-care, but also…jumping their fence every chance they got.
It was a busy spring season and no matter how much reinforcement I added to their fence, all those two wanted to do was run around and nibble our crops and get into trouble. 
After a few weeks of this nonsense, I was giving a tour of our farm to a group of interns from the Rodale Institute, and one mentioned that she knew a farmer who might know what to do with a couple of pesky goats.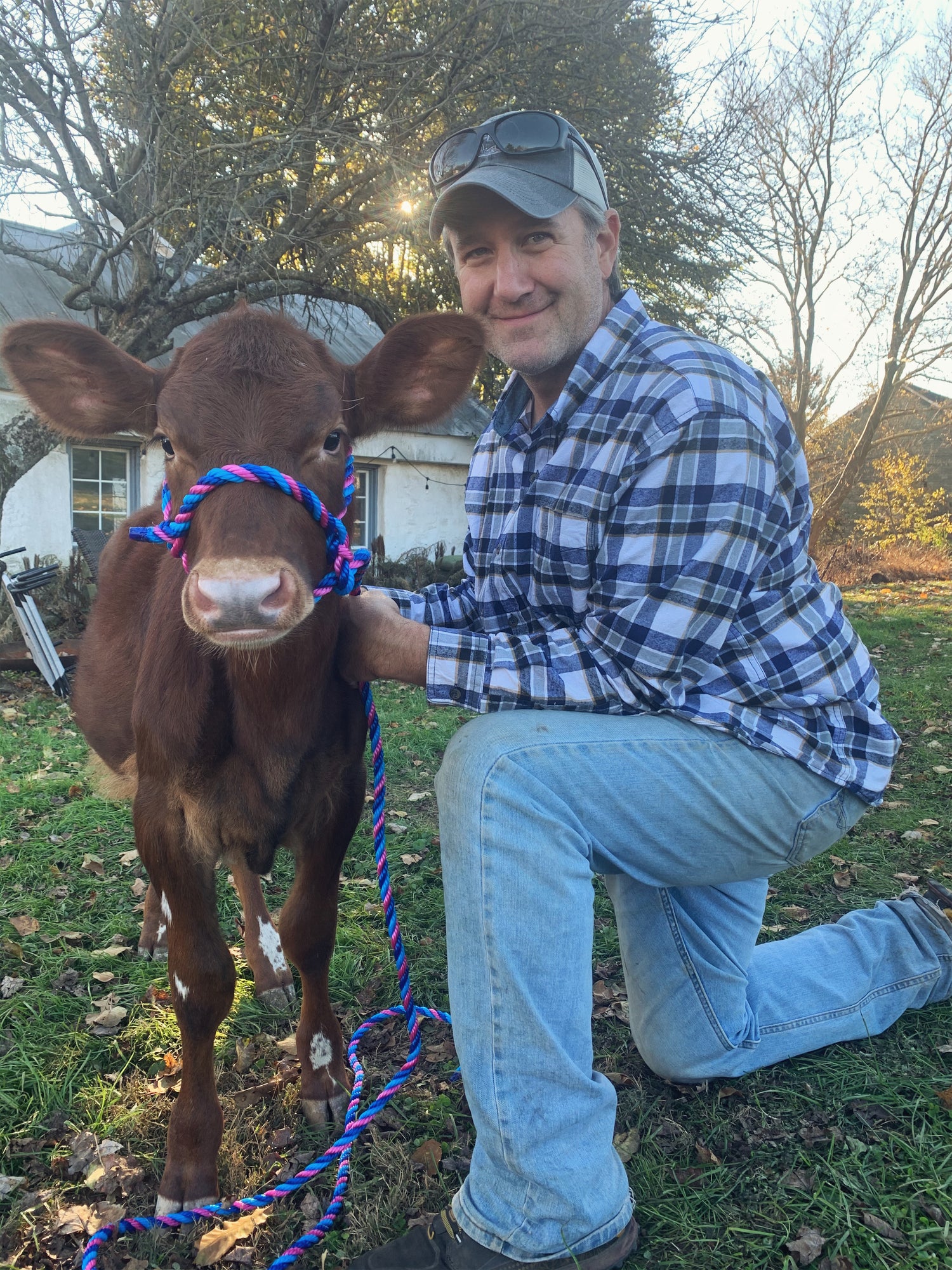 Enter Ben, who had been working with his family raising sheep, cattle and goats on Tulpehocken Farm after spending most of his life out West.
Animal whisperer that he is, Ben came to pick up the goats and brought them back to his farm where they happily grazed with the other animals in beautiful green pastures.
Not once did they make another escape!
Meanwhile, I had my eye on Ben after he came to my farm but I didn't get a chance to see him again until he applied for a job in 2020.
Needless to say, I hired him on the spot. After working side-by-side, day in and day out that season, we fell in love in the lemongrass patch under a warm fall sun. 
We talked all that winter about creating a farm that combined the best of both of us: my masterminding and his management; my favorite herb crops and his animal husbandry skills.
And so we did! The seed of Katydid Hill Farm was born on New Year's Day 2021. 
Since then, we have worked through a holistic farm planning process to figure out what we wanted from this farm life - starting with our values, thinking about the big picture and working through annual goals for our farm business.
We added some cows and sheep back into the mix (not ready for more goats though…) and worked on our field rotations and herb crop planning to focus on soil health, farmer health and supporting our community. 
Why katydid hill?
My mom used to call me Katydid when I was young - only later did I find out that they are the crickets that you hear singing "katydid, katydidn't" in late summer into the first frosts of fall.
Ben and I wanted a name that would be an ode to the land in those magical late summer evenings - just the kind of light chill in the air when the katydids are singing loud and you might make yourself a pot of chamomile tea to sip on the porch. 
Farming collaboratively has been both a fairytale and a deep dive in a lot of messy feelings and so, so meetings!
I am grateful to have a partner in love and farming who sees me, works through all the messy details with me, and holds space for all the feelings while building this farm life.
When I call Ben an animal whisperer, he always rolls his eyes a bit - it's just about listening and paying attention, he says.
I think it's a good point and I'm still learning how to slow down and listen more - to the plants, to our sweet livestock, to the land and the katydids in the summer evenings. 
Or check out our favorite herbal tea crops...